,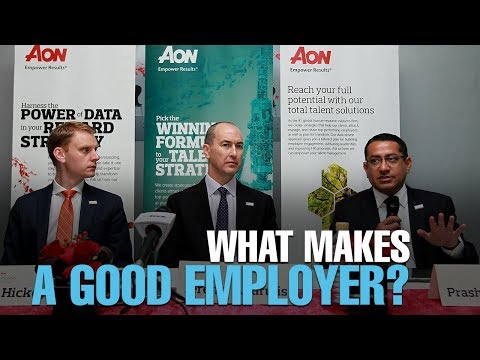 a good manager gives three things
the manager teaches new skills
the manager has a good impact
the leaders give trust
Companies spend a lot of time and money attracting talent to their organisation, but what can be more elusive is keeping them there. Every company wants to know the magic formula to keep their employees not only happy, but also engaged. Gone are the days when employees would work for a company until retirement age. According to
LinkedIn
, looking at data for job changes in the first 5 years after graduating, job changes have nearly doubled in the last 20 years. There are lots of reasons for this, not least because changing jobs often results in more opportunity for
career growth
and is usually accompanied by the ability to
negotiate better benefits and pay.
So, what can employers do to keep employees?
Careers in Africa run the Employer of Choice Study, which is the largest of its kind in Africa. Partnering with the HR agency, Willis Towers Watsons to try to understand what talent in Africa want from an employer, the study surveyed more than 20,000 respondents. What they discovered is people want more than good remuneration. They also want the ability to learn new skills and to have an impact on and through their organisation.
The ethos of the company that ranked top in the 2018 Employer of Choice Study, World African Bank, espouses an employee's desire to have a positive impact. Their mission is "to end extreme poverty and promote shared prosperity in a sustainable way," something which clearly speaks to potential African employees. World African Bank is a global organisation, with more than one and a half thousand employees in Africa. Its work in Africa includes dealing with Climate Change, empowering women, growing Africa's digital economy and tackling conflict and violence issues.
Companies with a less obvious objective to change the world can still attract talent by appealing to their desire to have an impact. Featured in the top ten employers, the multinational technology company Microsoft appeals to prospective talent through opportunities for career growth, career exploration, diversity and impacting the world. Put simply, their response to the question "Why Microsoft?" is: "Find a job you love, create the future you want, explore your unique passion, and empower billions." Career growth and support for future employees is appealing, especially to young Africans who might be looking to create a better life for themselves, their families and even their communities. In 2013, Microsoft also launched 4Afrika, an initiative which aims to bring technology to Africa. A great example of impactful work benefiting the community and the company. Through 4Afrika, Microsoft has helped more than 500,000 small African businesses get online and has placed 400 interns from their digital skills academy.
So what about more home-grown organisations?
While most of the top players in the Employer of Choice study are global multilateral companies, there are a few African organisations that managed to make the cut. Bridge International Academies made a surprise entry into the top ten of this year's Employer of Choice study. Despite being a relatively new company founded in 2008, they came out as the ninth most desirable employer for African talent. As an organisation focused on providing affordable private education in Africa, Bridge International Academies has shown purpose-driven rapid growth and now has academies in five different countries. Their ranking amongst some of the giants in the multilateral corporate world clearly demonstrates just how important making an impact is to prospective employees in Africa.
Are there any industries that come out tops?
Looking at the list as a whole, there are certain industries that seem to consistently feature, including development organisations like World Bank Group, African Development Bank and Development Bank of Southern Africa, companies in the energy sectors, like Chevron, ExxonMobil, Shell, Aggreko International Projects and Total who all feature in the top 20, and mining companies, four of which feature in the top 30. But the list is certainly not limited to these industries, with a variety of technology, telecoms, agriculture, food and drink and management companies featuring in the list.
Who are the biggest movers on the list from the previous years?
The new entries higher up the list include Bridge International Academies, Syngenta and Monsanto (both agricultural organisations with a strong focus on food security) and Alstom, a global rail transport company with a strong people focus. All of these organisations show a correlation with the primary drivers identified in the study, especially the desire to make an impact and to develop skills. The top climber from the previous year was Aggreko, an organisation focused on providing power generation and temperature control, often in remote places. Perhaps their goal of "transforming the lives and livelihoods of individuals, organisations and communities across the globe" speaks to the interest of African talent. The biggest drop down the list was Safaricom, the Kenyan mobile network operator (and home to M-Pesa) who dropped a surprising 81 spots, but who remain a top employer in Kenya, according to BrighterMonday's 2018 Best 100 Companies to Work for in Kenya survey.
Apart from having an impact and enough skills development opportunities, what else do prospective employees want?
Well, trust in leadership was the third most important factor to respondents. And there's definitely room for African employers to grow here. The results of the survey showed that just over half of employees trusted their senior leadership, which is remarkably low considering that this is a top three driver for employees. When looking to hire and keep top talent in Africa, it's a good idea to invest in creating leadership that is sincere, well-trained and able to lead from the front.
The Careers in Africa Employer of Choice Study certainly provides some clear indicators of what young talent in Africa is searching for. So if you're a company looking for top talent, take note. According to Careers in Africa, it's quite simple, "if you can offer people development, health insurance, fair leadership and a sense of purpose, you will be a top employer."